Siphon Blast Cabinets
DUST COLLECTORS
Is standard on all Models.
Is suited for light to medium amounts of blasting.
Is suited for use with most types of media.
ABRASIVE SEPARATORS
Abrasive separators are designed to keep media free of contaminants. During blasting, media is suctioned into the abrasive separator, where the dust and contaminants are removed and exhausted into a filter bag or optional deluxe dust collector. The cleaned media then returns to the cabinet for reblasting. This media is more efficient and provides more consistent results. This system is ideal for blasting painted, rusted, and corroded parts.
DELUXE MODELS
Is available on Models with an abrasive separator.
Is standard on deluxe models.
Replaces standard dust bag on abrasive separators.
Is suited for use with most types of media.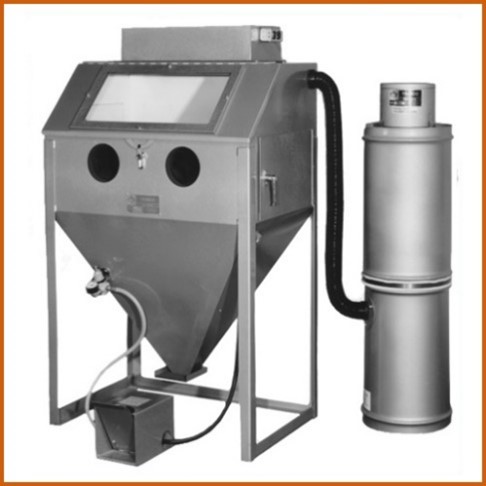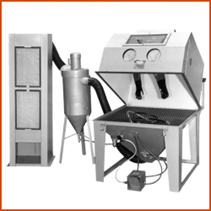 Direct Pressure Blast Cabinets
Direct Pressure Blast Cabinets deliver a pressurized high-velocity stream of media providing the power and speed needed for production blasting and removal of tough coatings. Heavy layers of paint, rust, scale, corrosion, etc. are quickly and easily removed. Direct Pressure Cabinets are 3-4 times faster than Siphon cabinets when blasting at half the pressure.
TRINCO Direct Pressure Models include an ASME blast tank to pressurize the media, an Abrasive Separator to clean the media and a large dust collector to filter out the dust and provide good cabinet visibility. Many options such as harsh media wear package, HEPA filtration, turntables, power baskets, 3 PH electrical, etc. are available.
Also available with 900 RPC Cartridge Dust Collector.
Many accessories also available.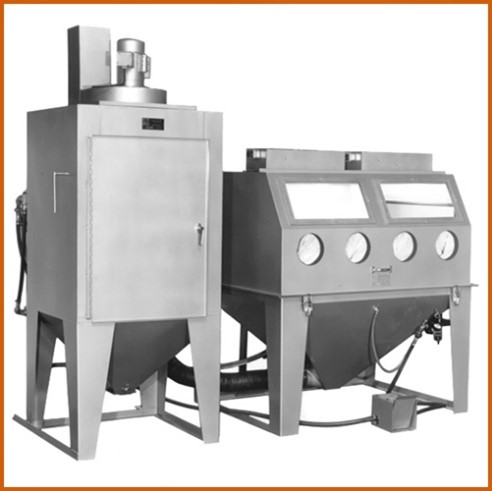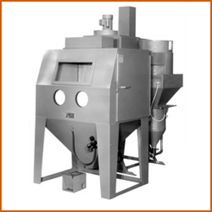 Tumble Blasters
Tumble Blaster Models simplify the difficult job of blasting small, hard to hold parts. Load your small parts into the basket or barrel, close the door and set the timer. The mounted blast gun will blast your parts as they tumble in the barrel. When timer expires, the blast gun stops leaving your parts clean and ready for the next batch. Some Models offer both tumble and manual blast capability. Many manual models can be equipped with our power basket accessory package for Tumble Blasting. They are also available for retrofit to an existing blast cabinet. Also available with Abrasive Separator or 900 RPC Cartridge Dust Collector.